Jurassic World: Dominion Dominates Fandom Wikis - The Loop
Play Sound


Parts Expansion Required
Some or all of the parts and/or features on this page require the Parts Expansion in-app purchase.
Fairings are lightweight aerodynamic parts. They are mainly used to increase aerodynamic effectiveness of payloads like rovers, satellites or space station modules by encasing them. They can also prevent overheating of payloads during ascent to space. Fairing shells can be deployed by tapping on them. They open in the middle and detach both sides from the spacecraft.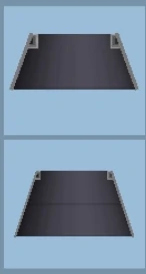 There are fairing parts with 5 primary skins and 3 secondary skins available for all fairings. The first four colors available to the player are (in chronological order): Metallic, Orange, Grey, and Black. The three secondary skins are (also in chronological order): Fairing, Flat and Riveted.
In version 1.5, 6 long fairings and 1 large cone were added. In a later update 5 more fairings were added with a height of 3 meters.
Large fairings are part of the Parts Expansion. Small fairings are free.
Uses
Building uses
Rotated fairing shells can be used to make aesthetic parts like satellite dishes.
Low-friction coating: Covering a non-aerodynamic rocket (for instance one with solar panels or RCS thrusters) with fairings can reduce aerodynamic drag.
Trivia
From version 1.35 onwards, fairing shells are attached to any part directly beneath them. Tapping to open them will make them detach from anything between them, but not beneath, and attaching the same object to both will effectively prevent them from opening.
In 1.4, there is a line in the middle of the fairing. In 1.5, it was removed, but in 1.5.3 it got added again.
History
In 1.4, fairings were disabled, meaning they did not increase the aerodynamic effectiveness of rockets. However in 1.5, fairings were enabled, so they can increase the aerodynamic effectiveness of rockets.
Until version 1.4, there were two fairing adapters, that connected fairings of different sizes. In 1.4 and above, fairings can now connect to others with similar widths like fuel tanks, making adapters redundant, so they no longer exist.
In 1.5.5, more fairing sizes were added. They are 6×6, 8×6, 10×6, 12×6, 14×2 and 14×6 respectively.