Jurassic World: Dominion Dominates Fandom Wikis - The Loop
Play Sound
For the larger removed variant of the probe, see Probe (Large). For other uses, see Probe (disambiguation).

The Probe is a small part that functions similarly to the Capsule, granting control over the craft it is attached to. It is usually used when a capsule cannot fit, and while its torque leaves a lot to be desired, its smaller mass is essential on those rockets where mass is precious. The probe can be used as a satellite core and can be attached to something that needs to be controllable (for example a reusable first stage).
Although probes weigh less than Capsules, they have less torque, and are not as aerodynamic.
The small probe contains a number of Easter eggs. When zoomed in it reads "Made on Earth by humans", a reference to the Tesla Roadster flown on the Falcon Heavy test mission, and when it is tapped in-game, it plays a few notes of David Bowie's Life On Mars, another reference to the first Falcon Heavy launch.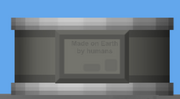 Trivia
As of the 1.5 update, there is a glitch when there is no Life on Mars sound.
Unlike its removed larger counterpart Probe (Large), the probe is the only one that has writing on it.
In the 1.4 update, the Probe was moved to utility because it was added back last minute after disappearing in the beta.
From 1.5 onwards, excepting clip glitching, parts can only be attached to the top and bottom, and the sides' metal overhangs; the centres of the sides are indented, so parts that don't reach the edges (like Docking Ports) won't attach and will fall off.
A small satellite can be created by changing the width value to 1.0 with the part.
Most new players put a capsule over a probe to increase torque.