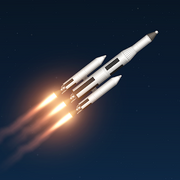 Spaceflight Simulator is a rocket-building and launching game created by Štefo Mai Morojna (Stef Moroyna). Players can create their own rockets and spacecrafts, then launch them into space.
The game was available only in English until 1.5 got released, introducing translations. The game is now available in multiple languages.
Features
Realistically scaled planets
Realistic orbital mechanics
Open universe with no invisible walls
Updates
The first public version of the game is 1.0, released on the 30th November, 2017. After continuous updates and improvements, the latest version available is 1.5.4
Locations
The Sun, planets and moons listed here are present in the game and can be visited.
Parts
The following parts can be used to build rockets.
Contact
Stef Moroyna can be contacted via this email address: games.morojna@gmail.com
Trivia
There is a knockoff game that looks like the original, but with a different picture, Chinese characters, and made by Unlimited Entertainment Studio.
The game is much simpler than other rocket games. Learn more[1]